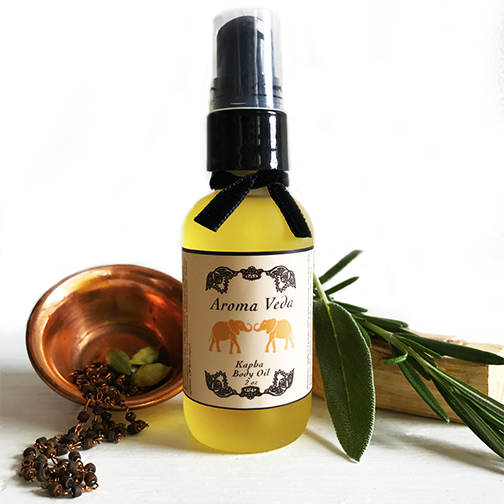 Kapha Body Oil
Our invigorating Kapha blend uses the cleansing elements of Palo Santo and White Sage, along with the stimulating and detoxifying properties of Lemongrass and Tulsi "Holy Basil" to rejuvenate the body, increase circulation of the lymphatic system and improve overall immune health. On applying this oil, you would experience it's beautiful aroma that is very uplifting for both men and women who are experiencing stagnation, lowered levels of energy or a sense of sluggishness in their body/mind. This is a terrific body oil that you should consider using in the winter as well as spring. 

Did you know that Tulsi is regarded as holy in India for it's many medicinal properties?  Millions of Indian households have this plant growing in their homes to this day. Mothers are known to use Tulsi leaves in their teas or their home remedies for colds and fevers. Tulsi leaves are also woven into garlands offered to the Gods in Indian temples, as a form of devotion as well as gratitude. 
Directions: Apply 3-5 pumps and gently massage onto your body using circular motions just out of the shower while your skin is still damp.

Powered by organic Ingredients of: 
Sesamum indicum  (Sesame oil) - possesses strong antioxidant and anti-bacterial properties
Ocimum tenuiflorum (Holy Basil) essential oil - calms the skin, rich in anti-inflammatory properties
Bursera graveolens (Palo Santo) essential oil - used in healing as well as rituals by the ancients in Southern and Central America; it is highly regarded for it's antioxidant and anti-inflammatory effects
Cymbopogon citratus (Lemongrass) essential oil - relieves muscle pains, possesses strong anti-inflammatory qualities
Citrus limonium (Lemon peel) essential oil - rich in antioxidants, this oil helps detoxify the skin
Salvia apiana (White sage) essential oil - fights free radicals and promotes anti-ageing 
2oz
For external use only, keep away from children