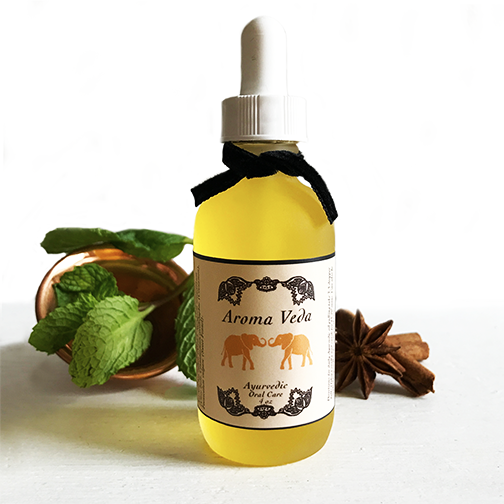 Ayurvedic Oral Care
Aroma Veda's daily oral care serum can be used for oil pulling or by placing a few drops on dental floss. Oil pulling is an Ayurvedic therapeutic technique that dates back at least a thousand years. Regular oil pulling has immense benefits for strengthening the teeth, gums, clearing the sinuses and the throat. Many practitioners testify to it's detoxifying properties as well as it's efficacy beyond just oral health.
Traditionally, sesame' or coconut oils have been used for this practice. At Aroma Veda, we formulated our own in-house recipe' for good reason. Swishing coconut oil or sesame' seed oil can potentially be difficult to get used to because of the strong flavors. In addition, the difference in taste between these oils and toothpastes can be pretty stark! We infused essential oils of herbs and spices in our blend to aid easy transition and ongoing comfort with the oil pulling practice. We also recognized that the flavor and the taste of the oil should complement flossing, and happily infused peppermint and sweet fennel into it!  
Clove, Neem, Peppermint, Sweet Fennel and Cinnamon support overall oral health and hygiene. The beautiful synergy in this blend also freshens the breath and moisturizes the mouth while drawing out toxins.  

Directions: Place 3 dropper fulls in the mouth, swish for up to 15-20min, rinse and follow up with flossing for ultimate oral care.

Powered by organic Ingredients of:
Sesamum indicum  (Sesame oil) - High in Calcium, prevents bad odors, fights tooth decay, aids gum health
Mentha piperita (Peppermint) essential oil- fights bacterial growth and prevents infection
Azadirachta indica (Neem) essential oil- fights tooth decay, oral infections, bleeding. People in India use Neem twigs for cleaning their teeth to this day
Syzygium aromaticum (Clove bud) oil - possesses germicidal qualities, fights toothaches
Cinnamomum cecidodaphne (Cinnamon) oil- Antibacterial properties, freshens breath
Foeniculum vulgare (Sweet Fennel) oil - antibacterial, freshens breath
4oz
For oral use only, keep out of reach of children