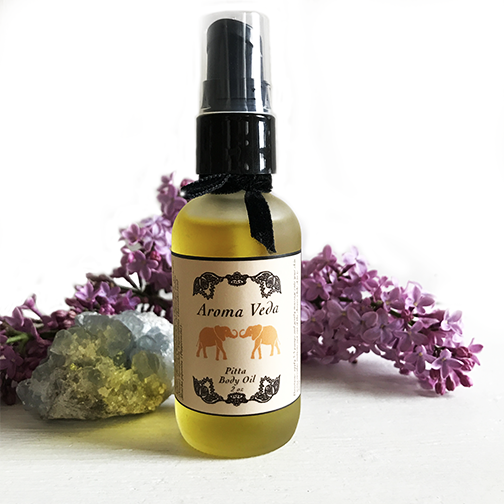 Pitta Body Oil
Our cooling Pitta blend is a gorgeous, soothing blend that combines the calming properties of Roman Chamomile, German Chamomile, and Lavender as well as Frankincense to nourish sensitive skin and center the mind-body and spirit. This body oil exudes a wonderful aroma that is floral and as well as honey-like. The Pitta body oil blend is best for people who struggle with heat in the body leading to conditions like acne, hormonal imbalance, heated emotions, and inflammation of any kind.
Frankincense and it's properties were well known to the ancients! It was one of the three gifts (along with gold and Myrrh) carried by the three Magi to Bethlehem to be given to baby Jesus. Frankincense was actively carried by traders of the incense trade routes to faraway lands across Africa, the middle-east and beyond. It has been used over thousands of years for clearing the nasal pathway, for reducing stress/anxiety and for it's memory enhancing properties.    
Directions: Apply 3-5 pumps and gently massage onto your whole body using circular motions when just out of the shower while your skin is still damp for best moisturizing results. This body oil can be used in the mornings or evenings; especially in the summertime after sunbathing.

Powered by organic Ingredients of: 
Caprylic/Capric Triglyceride, (Fractionated Coconut oil) - rich in anti-oxidants, this is an excellent ingredient in our body oil for moisturizing your skin
Chamomilla recutita (German Chamomile) essential oil - possesses strong anti-inflammatory properties
Anthemis nobilis (Roman Chamomile) essential oil - for soothing and moisturizing your skin
Boswellia carteri (Frankincense) essential oil - in addition to it's historically well regarded properties mentioned above it reduces signs of ageing and invigorates us
Lavandula angustifolia (Lavender) essential oil - possesses anti-inflammatory properties, lightens the skin
2oz
For external use only, keep away from children
---